We'd like to recognize our MVP Supporters & Advertisers. They have generously contributed cash, goods or services of varying amounts in support of our organization. For more information about our MVP Supporters please click on their logo or image and visit their website!
2022 Individual Banquet Sponsors
Thanks to our great supporters, we were able to hold a very successful live event at the Kato Ballroom in Mankato. We would like to thank all those that generously supported Minnesota Pheasants, Inc.. Below are listed thoise that elected to support MPI with our individual banquet sponsor option.
Individual Banquet Sponsors
Sponsors are those that have elected to support us through our Sponsorship Program.
Adam Ehlers
Allen Prosser
Arlen Ostermann
Bill LeDuc – Agri-Realty
Blue Earth County Pheasants Forever
Bo Nash
Bob Quiram
Brian Cain
Brian Swanson
Brian Taylor – Mankato Motor Company
Bruce Walters
Bryan Sowers – US Bank
Chad Ostermann – M&M Insurance
Charles Wingert
Chris Cass – Toyota of Mankato
Dale Hudson
Dan Cline – Printwear Graphics
Darrell Ehlers
David Ewel
David Ramsden
David Ziegler
Dean Runge
Dean Trauger
Dean Wuebker
Delwin Smith
Denise Anderson – Alltech Inc.
Dennis Peterson
Dwayne Thormadsgard
Eran Sandquist – Pheasants Forever Minnesota
Eric Anderson – Anderson Financial Services
Eric Dosch
Evan Goodrich – R&E Enterprises
Garden City Rod & Gun Club
Gary Hudson
Gary Mace – Mace Accounting
Glen Wiens
Henry Stokman
Howard Ward
Jacob Dolezal X 2
James Hannaseh
Jay Pederson
Jeff Ahrens
Jeff Davis
Joe Barnard
Joe Frederick
Joel Eberhart
Joel Pederson – Needle Myer Hunt Club
John Mastrey
John Olson
Jon Hudrlik
Josh Lunz – Lunz Property Management
Kathy Brunz
Kaya Strassburg
Kirby Thompson
Konor Severns
Kyle Leary
Kylie Klaus
Les Curry
Mark Hansen
Mark Hochstein
Mark Hummer
Michael Maurer
MN Deer Hunters Bend of the River
Nathan Mullendore
Ned Pilling
Nicollet Conservation Club
Phillip Hines
Randy Zellmer
Richard Barnard
Richard Bruels – River Valley Training
Rick Manke
Ron Bergemann
Scott Anderson
Scott Hudson
Scott Ostermann
Shane Meier
Steve Waugh
Theron Bonneur
Thomas Severns
Tod Stokman
Todd Goodrich
Todd Sittig
Todd Tanhoff
Todd Wiens
Tom Brunz – Brunz Construction Co. Inc.
Tony Workman – Workman Retirement Planning
Travis Javins
Tyler Eckhardt
Wayne Krosch
Zach Strassburg
Donors
Donors are those that have made generous product, service or cash donations for our annual banquet.
1000 Degrees Pizza
Al Prosser
Alfred Berner
All Pets Medicine, Surgery & Rehab Clinic
All States Ag Parts
Aramark
Arnie Lillo
Big Gain, Inc.
Bill Gardner
Bingham Hall Bed & Breakfast
Blue Earth County Soil & Water Conservation District
Bob Freyberg
Brian Swanson
Buffalo Wild Wings
C & S Supply, Inc.
Caribou Gun Club & Shooting Preserve
Carol Brady
Crysteel Truck Equipment
Cub Liquor – Mankato
Dale Hudson
Dale's Marine
Darrell & Cindy Ehlers
Denny Hild
Dick's Locker
Dokken Dog Supply
Freyberg Petroleum
Garry Barnett
Gary Bullemer
George's Fine Steaks & Spirits
GMS Industrial Supply, Inc.
Gun Dog Supply
Harrison Ford of Mankato
Hilltop Meat Market
Hy-Vee of Mankato
Joe Michel
Joe Steck
Johnson Outdoors
Jon & Julie Hudrlik
Karen Zuehke
Keepers RV Center
Key Cities Conservation Club
KEYC Television
Kia of Mankato
Kibble Equipment
Knives by Simon
Kwik Trip
Lakes Gas
LIV Aveda Salon & Spa

Lloyd Lumber Company
Locher Bros., Inc.
M&M Insurance
Mankato Eagles Aerie & Auxiliary 269
Mankato Motor Company
Mapleton Marine
MARCO
Matt Hudson
Milwaukee Electric Tool Company
Minnesota Horse & Hunt Club
Morgan Creek Vineyard
Nicks Car Care
North Links Golf Course
onX Hunt
Outdoor News
Panera Bread
Patrick Erdner
Perkins
Pet Expo
Pro Graphix
Purina
Radio Mankato
Randy & Vivienne Palmquist
Rapidan Dam Store Café
Retreiver Journal
Richard Kakeldey
Rounders Bar & Grill
Ryan Krosch
Scheels
Schmidt's Meat Market
Shawn Hern
Sitka Gear
Sportsman's Art, Ltd – Jim Killen
Syngenta Seeds, Inc.
The Mad Bomber Company
Tom & Nita Looft
Tow Distributing
U.S. Bank – Mankato City Center Branch
Vernon Center Lumber
Vetter Stone Company
Volk Transfer
Wayne Krosch
White Fox Fur & Feather
William Stallkamp
Wingen Farms LLP
Workman Retirement Planning LLC
Yeti Coolers

We would also like to thank the following individuals for their past and present support of our organization. Each has been a tremendous help and we appreciate their dedication and support!
David Salsbery, Randy Zellmer & Gary Mace for their professional guidance.
Mike Malling of the U.S. Fish & Wildlife Service for his long tenured relationship with our group.
Debra Loon (Executive Director) of the Minnesota Valley Trust for her on-going efforts in our area.
Dick's Locker for their generous on-going support.
Syngenta Seeds – Neil Goodell & Barry Kuhlmann for their generous long time support of our organization.
Dave Kruse at KruseTech for his technical support.
Lake Crystal Ducks Unlimited for their continued support of our efforts and long time banquet volunteer assistance.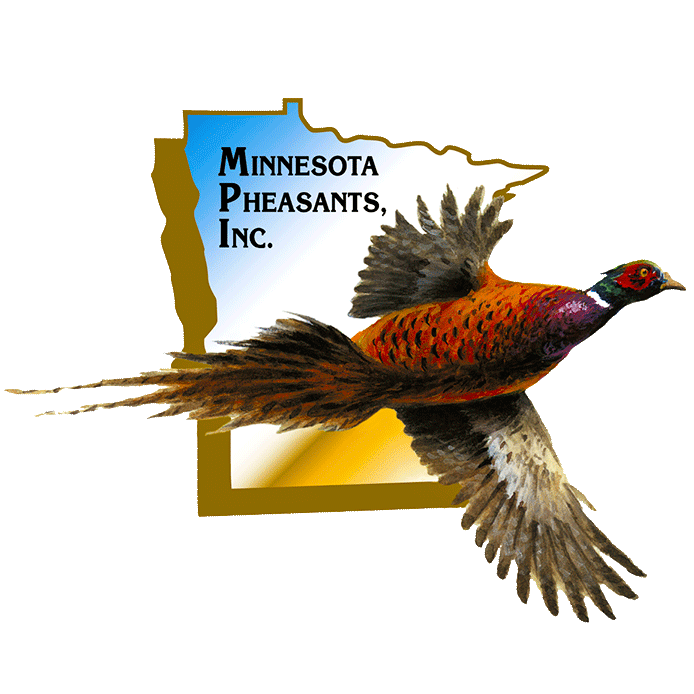 Get In Touch
Let us know what's on your mind! 


(Phone & Voicemail plus Text)
or 507.387.9011 - Voicemail only, leave a message. Minnesota Pheasants, Inc. - PO Box 202, 401 Chapel Street - Good Thunder, Minnesota 56037
Are you interested in making a difference? Our projects provide permanent public access to native grass, wetlands, woods and beautiful vistas. Everything we do is intended to offer future generations opportunities to experience natural habitat and the wildlife that live there.
Get involved - we are always looking for new volunteers. Contact us for more information! 
To subscribe to our email or snail mail list please click the subscribe button!
Minnesota Pheasants, Inc. - A 501(c)(3) Non-Profit Conservation Organization - Privacy Statement
Federal EIN: 41-1597196 Minnesota EIN: 4854207