We'd like to recognize our MVP Supporters. They have generously donated cash, goods or services of varying amounts in support of our organization. For more information about our MVP Supporters please click on their logo or image and visit their website!
We'd like to recognize our generous Advertising Supports. They have chosen to advertise in support of our organization.
Please take the time to visit their websites by clicking on their logo or image.
2017 Banquet Sponsors & Donors
We continue to enjoy very generous support from our individual sponsors & donors. This support is what makes all of our work possible. Many donations to Minnesota Pheasants, Inc. are tax deductible – check with your accountant for more information on tax deduct-ability.
Individual Sponsorships
Sponsors are those that have elected to support us through our Sponsorship Program.
Donors
Donors are those that have made generous product, service or cash donations for our annual banquet.
Individual Sponsorships
A B Transmissions
Agri-Realty – Bill LeDuc
Brian Swanson
Brunz Construction – Tom Brunz
Chuck Klammer
Cody Riemann
David A.Salsbury
Dean Wuebker
Elite Electrical Innovations, LLC – Josh Henry
Garden City Rod & Gun Club
Jake Busse
KEYC Television
Leah Walters
Les Curry
M&M Insurance – Chad Ostermann
MAF Vet Services, PA – Mark Fitzsimmons
Mankato Eagles Aerie 269
Mankato Motor Company – Dale Schmitt
Minnesota Deer Hunters – Bend of the River Chapter
Ralph Hundt
River Valley Training – Rick Bruels
Robert Baack
Stinson Leonard Street LLP – Randy Zellmer
Stonebrooke Engineering, Inc. – Doug Haeder
Sunny Plain Stock Farm – Allen Marble
Syngenta Seeds, Inc. -Barry Kuhlmann
Tailwind Group – Kyle Smith
William Stallkamp
Wingert Realty Land Services – Charles Wingert
Workman Retirement Planning LLC -Tony Workman
Donors
Ace Hardware of Lake Crystal
Adams Auto
All Pets Medicine, Surgery & Rehab Clinic
Alltech Lexington Brewing & Distilling Co.
Ameripride
Arnolds of Mankato
Avery Outdoors
Bauer's Specialty Sales
Bent River Outfitter
Big Gain, Inc.
Bill Webb Insurance Agency
Bingham Hall Bed & Breakfast
Blacksmith Shop
Blue Earth County Soil & Water Conservation District
Buffalo Wild Wings of Mankato
C & S Supply, Inc.
Caribou Gun Club & Shooting Preserve
Chanhassen Dinner Theatre
Charley's Restaurant
Community Bank Vernon Center
Countryside Refrigeration & Heating
Creative Ad Solutions
Crosman Air Rifles
Crysteel Truck Equipment
D Bar 169 – Vernon Center
Dale's Marine
Darrell Ehlers & Lake Crystal DU
Denny Hild
Dick's Locker
Dokken Dog Supply
Dotson Iron Casting
Duncanson Growers
Dzine, LLC
Exclusively Diamonds
Freyberg Petroleum
Gallery 19
Gary Bullemer
George's Fine Steaks & Spirits
GMS Industrial Supply, Inc.
Grand Casino Hinckley
Grand Casino Mille Lacs
Gun Dog Supply
Hagen & Oats
Happy Chef
Heartlund Kennels
Heintz Toyota
Helleckson Heating & Air Conditioning
Hilltop Meat Market
Howard Ward
Hubbard Feeds Central Business Unit
Hy-Vee Hilltop
Joe Michel
John Banwart
Johnson Outdoors
Jon & Julie Hudrlik
Jon Smithers Wildlife, Nature & Landscape Photography
Judson Implement – United Farmers Coop
Kaduce Tire
Kato Ballroom
Keepers RV Center
Keith Bos
Kent GameBore Corp
Key Cities Conservation Club
KEYC Television
Kibble Equipment
Knives by Simon
Kurt Kegler
Laitenberger Game Farm
Lakes Gas
Liberty Acres Pet Lodge
Lindsay Window & Door LLC
LIV Aveda Salon & Spa
Donors
LJP Enterprises Waste & Recycling
Locher Brothers, Inc.
Luther Mankato Honda
MAF Vet Services, PA
Mankato Brewery
Mankato Eagles Aerie 269
Mankato Family YMCA
Mankato Ford
Mankato Harley Davidson
Mankato Industrial Coating
Mankato MoonDogs
Mankato Motor Company
Mankato Valley Seeds
MARCO
McGowan Water Conditioning
Midtown Tavern
Minnesota Horse & Hunt Club
Minnesota Lynx
Minnesota Valley Pet Hospital
Mississippi Welders Supply
MN State University – MSU Athletics Department
Morgan Creek Vineyard
MTU Onsite Energy
MVP Coaches
Nicks Car Care
North Links Golf Course
Outdoor News
Panera
Papa John's Pizza
Pappageorge Restaurant & Bar
Park Lane Liquors
Patrick Erdner
Pepsi-Cola of Mankato, Inc.
Perkins
Pet Expo
Politos Pizza
Prairies Edge Casino
Quality Tree Service
R & R Tire – Midwest Wheel Cover
Rahn Farms
Rapidan Dam Café
River Valley Training
Roger Runge
Rounders Bar & Grill
Scheels All Sports
Schmidt's Meat Market
Shawn Hern
Smiths Mill Janesville Sportsmen's Club
Snell Motors
Spring Creek Hunting
Sun Up Construction
Sunny Plain Stock Farms – Allen Marble
Syngenta Seeds, Inc.
Terrace View Golf Course
The Mad Bomber Company
The Pointing Dog Journal / The Retriever Journal
TLP Pork
Tom & Nita Looft
Toppers & Trailers Plus, Inc.
Tow Distributing
Uber Glove & Tanning Company
Ummies Mankato
Vantage Point Shooting Range
Vernon Center Lumber
Vernon Center Market
Vetter Stone Company
Volk Transfer
Wayne Krosch
West Edge Auto
WFS
White Fox Fur & Feather
Wild Rose Casino & Resort
Wingen Farms LLP
Workman Retirement Planning LLC
Xcel Energy
Y-Barbers
We would also like to thank the following individuals for their past and present support of our organization. Each has been a tremendous help and we appreciate their dedication and support!
David Salsbery, Randy Zellmer & Gary Mace for their professional guidance.
Mike Malling of the U.S. Fish & Wildlife Service for his long tenured relationship with our group.
Dick's Locker, Hilltop Meat Market, Schmidt's Meat Market & Vernon Center Market for their generous on-going support.
Syngenta Seeds – Barry Kuhlmann for their generous long time support of our organization.
Dave Kruse at KruseTech for his technical support.
Lake Crystal Ducks Unlimited for their continued support of our efforts and long time banquet volunteer assistance.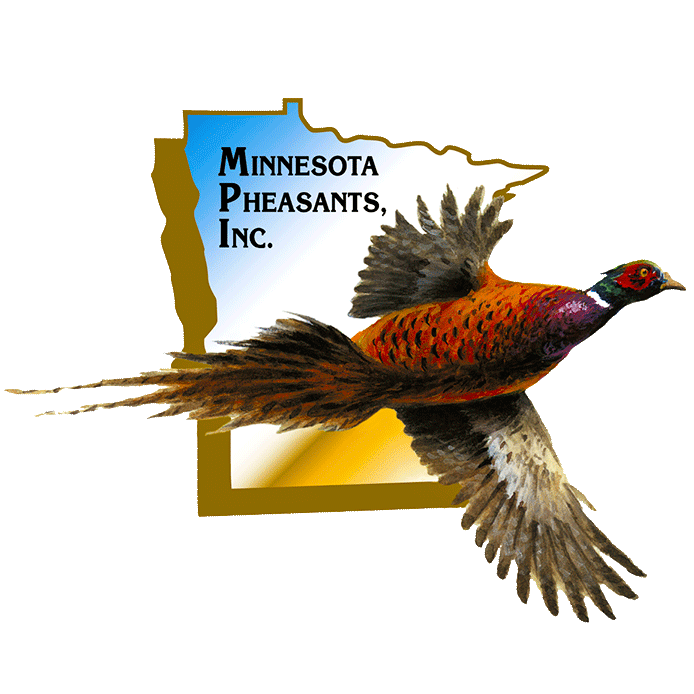 Get In Touch
Let us know what's on your mind!
507-387-9011
Please leave a message.
Minnesota Pheasants, Inc.
PO Box 202
Good Thunder, Minnesota 56037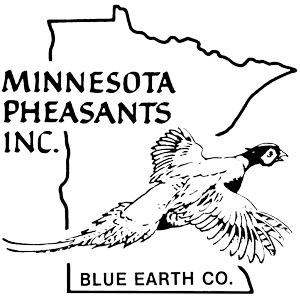 Are you interested in making a difference? Our projects provide permanent public access to native grass, wetlands, woods and beautiful vistas. Everything we do is intended to offer future generations opportunities to experience natural habitat and the wildlife that live there.
Get involved - we are always looking for new volunteers. Contact us for more information!