Early Projects & Miscellaneous Activites

Our first project was to create a demonstration plot on the outskirts of the city of Good Thunder at the sewage lagoon.  We planted 6 rows of trees about 500 linear feet parallel to Blue Earth County Road 10 to screen the ponds from view. There was a grass component north of the trees between the trees and the ponds.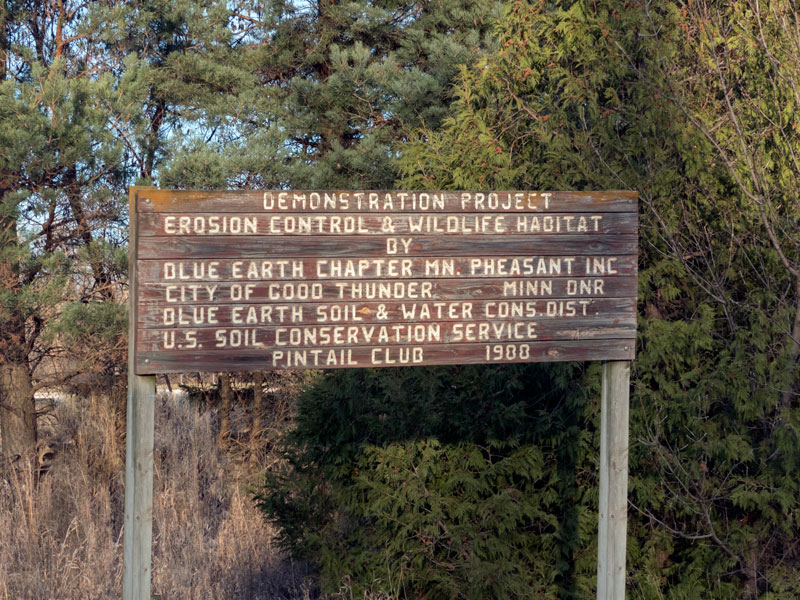 We planted grass and trees at Bray County Park.
We provided seed and planted approximately 4 acres of grass along County Road 90 when the southern bypass was built.
We conducted perscribed burns twice at Schimek Park (Blue Earth County Parks).
We planted approximately 500 eastern red cedar trees on the south side of Maple River WMA.
We have supported PF Ringneck Youth Day (formerly Jakes Day), Farmfest, Blue Earth County Fair, Lura Lake Improvement Association, Key Cities Conservation Club Youth Day and numerous other local youth and habitat programs.
We supported the Crystal – Loon – Mills Phase I Clean Water Partnership.
We purchased and provided a "Tree Row Weeder" to landowners who wanted to participate in our multi-row tree planting cost share program as an incentive to plant 8 row shelter belts.  It has been used on approximately 25,000 trees.  We charged a marginal rental rate.
We purchased a Truax grain drill and made it available to land owners who wanted to enroll in CRP, CREP and RIM and needed a drill.  We charged a marginal rental rate.
Numerous cost shares on food plots, wetland restorations, native grass plantings and tree plantings.
We purchased seed and seeded the point by the old boat access on Lura Lake and also the area where you come in.  Total area approximately 4 acres.
We continue to provide ditch cleanup service on Blue Earth County Road 112 for the Adopt a Highway Program.